Introduction:
Great news has come our way! "Marbles: The Different Colours of Mental Health," the powerful short film by True Cadence and Kletick in collaboration with Barking and Dagenham Council and NHS England, has recently earned an Honourable Mention at the prestigious 2023 Greenwich Film Festival. This recognition is a testament to the film's profound impact and its ability to spark meaningful conversations about mental health. The film, which features young people from True Cadence, was Executive Produced by (and also features) our Founder/CEO, Manny Loveankh, and was Directed by Angelo Varela of Kletick, the production company who narrated the visual element beautifully.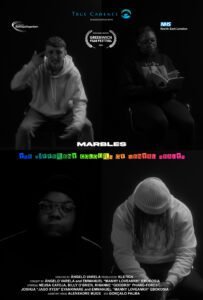 A Celebration of Art and Advocacy:
The Greenwich Film Festival, known for showcasing exceptional cinematic works, is a platform that honours creativity and advocacy in the world of film. "Marbles" made a significant impression with its unique blend of spoken word and captivating visuals, which brought the complexities of mental health to life.
Why Honourable Mention Matters:
Earning an Honourable Mention at such a respected film festival is a remarkable achievement. It underscores the film's ability to resonate with audiences and deliver a powerful message about mental health. This recognition not only celebrates the creative talents behind the film but also amplifies the importance of the conversations it ignites.
A Catalyst for Change:
"Marbles" has always been more than just a short film. It is a catalyst for change, aiming to destigmatize mental health and encourage open conversations, particularly among young people. Its artistic approach, combining spoken word and visuals, has struck a chord with viewers, making them reflect on their own experiences and those of others.
The Impact Continues:
With this Honourable Mention, the impact of "Marbles" extends beyond its initial release. It highlights the importance of continuing the conversation around mental health and demonstrates how art can be a powerful tool for advocacy. The film's message resonates with individuals from all walks of life, emphasizing the need for empathy, understanding, and support.
What's Next?
As "Marbles: The Different Colours of Mental Health" continues to make waves, it reminds us of the vital role film can play in raising awareness and creating positive change. The Honourable Mention at the 2023 Greenwich Film Festival serves as a reminder that we must persist in our efforts to break the stigma surrounding mental health.
Conclusion:
The Honourable Mention at the 2023 Greenwich Film Festival is a significant milestone for "Marbles: The Different Colours of Mental Health." It reinforces the importance of normalizing conversations about mental health and underscores the power of art in advocating for change. We look forward to the continued impact of this remarkable short film as it inspires, educates, and fosters empathy within our communities.
WATCH THE SHORT FILM