She's a singer, wellbeing consultant, author, and founder of 'Beyond A Song CIC', what does she not do? On top of her busy career, family is vital to her life. She is a mum and a wife and describes feeling very supported and loved so she can "give out love". She was born and raised in South London. Currently, she is planning her next show while also working on some projects, for example, wellbeing sessions with the NHS.
Tiwa King is an inspiring individual with a positive and realistic outlook. This interview reveals her own personal journey of how she got into music, how she created her company and the power of affirmations in her work and life. Tiwa King also explores her difficult yet exciting experience delivering TEDx talks. Furthermore, an insight into her mentally educational book and future goals. She also describes the truth about work-life balance and how there is no such thing.
How did you first get into music?
This famous story (laughs), my parents say they knew I was a singer from when I came out of the womb. I have this vivid memory of when I was with a nanny and had this old-school Walkman. Listening to 'three blind mice', I remember falling in love with music. I even remember changing up the song. From then on, my dad would always make me sing 'Amazing Grace' at church, sing at school, on holidays, on birthdays, everywhere.
What inspired you to create 'Beyond A Song CIC'?
Remembering my dad making me sing in front of crowds and feeling scared, I nearly hated it because I was so young, but I was inspired by that. Mustering up confidence each time kind of paved the way how I'd get through life and all my problems. Whenever I've had a big obstacle, it's been music that has saved me and connected me with feelings I didn't know how to articulate.
When I started doing shows, singing, and talking, I could see how much it impacted people and realised people needed this every day, a way to increase their wellbeing. After being made redundant from my corporate job, I realised this was what I was meant to be doing.
One day when I was on the phone with my sister, she said when you sing, it's like beyond a song, and I was like, whoa (laughs). Then I realised all the things I was doing for free, I could do it as a social enterprise. Also, marry music with wellbeing to make an impact on people who needs it, and that's how Beyond A Song was created.
What age group do you aim to work with?
It has grown. It started off with younger adults, but wellbeing is universal, and now I work with kids from 4 years old to adults like 70 years old. We create a bespoke programme to match where you are in your life and how to deal with going through a tough time.
I saw a workshop with 6–11-year-olds about affirmations, do you have any personal affirmations?
One of my favourite ones is "I am powerful beyond measure". It's this idea there is no cap to how powerful someone can be, it's about how much I'm willing to dig in.
Another affirmation is "I am connected to the unlimited source of creativity" which is a massive one for me like whenever I feel a block, I remember I am connected to something higher than me, so there is only a block in my mind.
So, have you always found affirmations helpful?
Definitely, when growing up in a church setting, you are using affirmations without even knowing it. So, coming out of church the idea that words are powerful sticks with you. So yeah, I use them every day, in my workshops, my songwriting, when I wrote my book. I am a huge fan of affirmations and speaking well to yourself.
You mentioned writing your book, tell us more?
It's called the Authenticity Checklist, basically a guide to being your most authentic self. It takes you through what's your power, why you are so important, and why people need you to be you. I will be releasing the audiobook to that soon and singing.
I saw you had a show in May in Brixton with Sofar Sounds and in your post you talked about how you love storytelling through song and never losing your creativity building your career. Do you find your most creative work comes from storytelling?
Absolutely, for me, the most powerful to connect with people is by telling a story. I know it sounds strange (laughs), but I feel in a way we are all stories, so there is no better way to connect than tapping into their story and telling your story. Also, I don't think there is anything more powerful than truth, so when talking from an honest place, that's one of the strongest connections you can have with people. So, I embed storytelling in everything I do.
How would you describe your experience with TEDx talks, what was your focus?
So, for my first TEDx talks, I was so excited, but I was going through a difficult time, so I was also anxious. I remember crying literally before stepping onto the stage. I remembered thinking that I wasn't worthy, but another voice said you are because you are singing your truth and telling your story. So, it was one of the most empowering things I've done, pushing past the negative thoughts.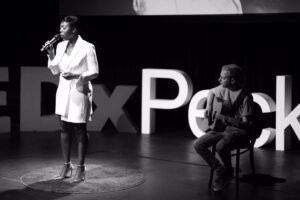 In your performance with True Cadence, the 'celebrating 10 years' festival, you preformed an original song about taking what you deserve, what inspired this song?
It was inspired by Sofar Sounds because they aren't keen on you singing covers, and I've never really performed my original songs. The whole song is about losing your reflection and not knowing who you are. The rest of that song focuses on empowering and believing in who you are, being authentic. To take what's yours, your joy and peace.
I was also told in that performance, your parents were in the audience, how did that make you feel?
I don't know how I didn't cry (laughs). My parents are such a huge part of this journey, I dedicated my book to them, saying how they were the beginning of my journey- from making me sing Amazing Grace to now. That day I felt emotional and grateful. They gave me more confidence because no one knows my story better than them. Seeing the pride on my dad's face and my mum crying because it was the first time she had seen me perform. It was an experience I will remember forever.
What advice would you give on balancing your busy career?
Honestly, if I'm being really real, there is no such thing as balance. You need to prioritise and always put your wellbeing as the top priority. Something always has to give, but you have to make sure you are happy with whatever is getting the short end of the stick. You have to be okay with the fact some things might suffer. But it's only for the season, and you get to choose what to prioritise, what is important. You just need to be kind, be present and celebrate your small wins because they will flash past so take time out to pat yourself on the back and do things you love. Because that's the fuel to keep you going, and you need to be careful not to burn out. You hear so many things but it's not true, I don't know one person who has got it right.
How do you cope with your busy career and home life?
It's really tough, and that's what has made me accept there is no balance. But being self-employed allows me to work around my child a bit better than a nine-to-five has done. If I know I have too much work on, I can cut back and spend time with my family. But accepting I don't have a conventional job helps me out. As long as my child is breathing and eating and happy, I'm doing an alright job (laughs). Also, having a supportive partner who believes in what you do makes it much easier. It doesn't make sense without family; they inspire the work I do, so I could never compromise that.
What is the next step, your future goals?
One of the main things for me is to never lose that creative side of what I'm doing, my shows and events. Making sure people really experience me and wellbeing from a creative and musical side. It's important that people get that escapism.
Another thing that's important to me is working with kids and making sure they have the confidence to step into every room, no matter how their story was written.
The next thing for me is just working with the people I really want to work with next year, not just grabbing every piece of work. I really want everything I do to be building part of a legacy.
Also, recording a song, that's at the top of the list. I do believe that everything can be done even though it sounds crazy but it's all the same vision.
Check out Tiwa King on Instagram or Twitter. You can find her book here!