With an ardent passion for the performing arts and a voice that merges youthful energy with a bright clarity, Katie Mitton is aiming for nothing less than Broadway and beyond.
At just 15 years old, Katie is quickly gaining recognition with her dynamic song covers and original singles about her adolescent journey. The young performer from Felixstowe has devoted her life to music, dance and acting, highlighting her first musical, The Wizard of Oz, with the Ipswich Operatic and Dramatic Society when she was nine. From busking locally to being invited to fundraisers and events, Katie has performed at various gigs in London, including at Queen Elizabeth Olympic Park for the tenth anniversary celebration of the London 2012 Summer Olympics. She has also been featured in the papers and awarded for her musical achievements.
Despite holding experience to rival other up-and-coming artists, Katie demonstrates an earnest desire for improvement. As one of the earliest members of the True Cadence family, she works actively with our founder Manny and other facilitators to develop her singing and performing skills on The Expression Project.
With a clear vision to turn passion into career, Katie shares her experience as a young performing artist, her growth at True Cadence, and her future pursuits.
*****
What is it that you most enjoy about performing?
Mainly the adrenaline and the excitement, but also the ability to express my passion for singing. I want others to know how grateful I am for the moment and how much I'm enjoying it. My favourite performances tend to be the ones with the largest crowds where people are most ready to get engaged with the performance. There's so much energy between you and the audience. 
Performing as a teenager comes with both its advantages and limitations. Could you tell me a bit of both? 
See, I love it because I'm so grateful for the fact that I get to spend so much of my life doing what I love most, instead of waiting until I get older. My biggest regret would be not starting earlier, so I could not be more grateful that I'm starting now. 
There's also a couple of different sides to it. Career-wise, most gigs by young people are unpaid because you're so early on in your journey. Gigs become more about getting yourself out there, so it's great in terms of getting experience and learning. Event organizers are more likely to ask you to sing, but the downside is that they obviously feel less obliged to pay you.
Also, because I'm under 18, it limits where and when I can sing. I was asked to do some gigs in London, but we ended up turning them down. For almost all of them, you had to be over 18 to perform.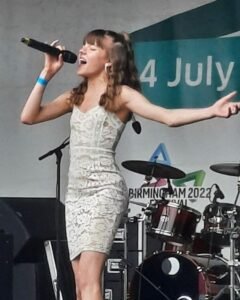 How do you balance school with your music and dance practice and other commitments? 
That's one of the trickiest things. I think it's about accepting that, where others have their school life and a social life, I have my school life and my extracurricular life. I spend time practising and working towards my career, which means I might not have as much time to spend with my friends, but I still try and see everyone when possible. 
Your song covers include pop and R&B genres, but also ballads and classic hits that might not instantly resonate with teenagers. What are your considerations when choosing songs to cover?
I also want to learn about song choices for my age, but so far, I've been going for songs that I love and that audiences would like to get involved with. Sometimes it's difficult to connect with some songs if there's emotions that I might not have experienced myself. Still, I relate them to emotions that I have felt, even if it's not entirely the same. 
Take on and search for every single opportunity.
How do you prepare for your cover performances? Do you attempt to mimic the original style, or do you put your own spin on the song?
I guess I just sing them! Singing covers is the same as acting: using the lyrics as a poem, you can interpret and perform it as a monologue of sorts. I've also learned a lot from implementing artists' best aspects into my influences. In covers, I know that I can perform slightly differently to how the artist has in the original, but if they've done something that I really like, I will try and use it to improve myself. 
Since late 2021, you've released three singles that capture internal and interpersonal conflict reminiscent of adolescence and growing up. Are your songs inspired from your personal experiences?
One of them is, and that was the hardest one for me to release because it is so personal. I wrote Someone to Look Up To when I was going through not the greatest stage with Mum. Whenever I were upset, writing Someone to Look Up To was my release and what helped calm me down. I've written two more songs now based on my emotions, because it's a way to organise my thoughts and put important feelings into lyrics.
I want others to know how grateful I am for the moment and how much I'm enjoying it. 
From Music and Mindfulness to The Expression Project, Your True Cadence trajectory has been increasingly tailored to helping you express yourself through music performances. What have been some highlights throughout this journey?
I would say the first time I played an original song to Manny on Zoom. I remember taking my computer to the piano to play Manny the song I Don't Know which I had just written. It was really special for me to see my music touch someone so much. 
Another highlight would be my first gig in London, when we went down to Roadtrip & The Workshop with The Expression Project. Being from Felixstowe, I had always dreamed of being able to sing in London, and I was accomplishing a dream.
The last one is just how much my confidence has improved being with True Cadence. There's so many opportunities and I've learned so much about myself as a performer, where I'm at now and what my next steps are to improve.
What are some skills you've developed at True Cadence? 
Being able to talk naturally on stage is one of the biggest ones. A couple of years ago, I'd be fine singing on stage, but in between songs, I would be so afraid to talk to the crowd. I would script and memorize everything, but True Cadence helped me feel more confident to talk to the audience and say what I'm thinking on stage in the moment.
Another thing was feeling comfortable when giving critique and feedback, which I'd always been quite afraid of. At school, you do peer-on-peer assessment, but I'm not very good at saying, 'I think you could improve this'. However, at True Cadence I've received feedback that has helped me understand my best skills as a performer, and I want to do that for other people as well – good feedback is so helpful for performing artists.
How have you found working with professionals in the music industry and learning from them first-hand?
It's amazing to have them as role models. I look up to them all and ask them how they achieve their most successful aspects. They've passed on so much knowledge… I can speak to Manny for 10 minutes and already have learned so many things. It's incredible, and I have a lot of catching up to do!
Could you describe your True Cadence experience in three words? 
Made me me. It's random, but I am only the performer I am today because of True Cadence.
I am only the performer I am today because of True Cadence.
Who are you most grateful for in your music/ performing pursuits?
Definitely Manny, and all of the True Cadence team who taught me so much. Also my parents as well: while they may not be able to teach me how to write a song, they're the ones that keep me going, even when things get a little bit difficult or crazy. My dad drives me down to London so I can take part in The Expression Project, so I genuinely could not be where I am without them. There's also Gemma Pipe and Will Breckin, who run Theatre Works Academy, the summer school I go to. They're helping me to go on to drama school for the performing side of my career.
What's your biggest dream? 
My biggest dream is to play Elphaba in the musical Wicked, or to Éponine in Les Miserables. 
Going forward, what are your future plans and pursuits?
I want to go to a performing arts college and do musical theatre and performing arts. As for performing, I want to keep doing what I'm doing, and carry on with True Cadence as well. The Expression Project has done so much for me, and I plan to keep up with performances and stuff.
Can we expect your new singles soon? 
Hopefully! I've written two lately that I particularly like and would love to get out there. Also, with GCSEs coming up, music is literally my release. If I'm stressed, you can expect me to be writing songs to help.
What advice would you give to fellow teenagers nurturing a passion for music/ performing?
Take on and search for every single opportunity, because they're all little puzzle pieces that, when put together, create an amazing outcome. That outcome would not be the same if it was missing a few good pieces, so just stick with every single opportunity life throws at you.
*****
Energetic and ever-ready to go up and beyond: not even the sky's the limit for the dedicated Katie Mitton. If you're also an aspiring artist looking for ways to get industry-ready, check out our free Expression Project for live performance workshops and tailored support from professionals.
Meanwhile, catch Katie in action at TC Jamz right here, as well as her original singles streaming on digital platforms.